The rise of the farm-cation
With the boom of the Northwest's local food movement, a new kind of vacation has emerged. More and more farmers are converting spare rooms into guest rooms, and offering city-dwellers a taste of farm life — chickens and all.
Crosscut.com
Seattle
By Amy Pennington
Published: October 19, 2011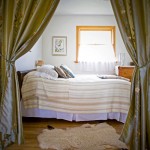 Several years ago I visited Croatia to meet extended family and cousins for the first time. Eager for their company, but craving my own space I searched online to look for hotels and inns near the villages where they live. Instead of finding traditional housing, however, I ended up scrolling through page after page of farms offering room and board. The availability of such housing was prolific and in many cases the only option to rely upon. 'Agroturizam' was a new concept for me, and one that promised a farm-fresh meal and a full belly — both excellent qualities when traveling.
Back in the states, it became quite clear that many farms offer farm stays. By definition, "Agritourism enterprise is a business conducted by a farm operator for the enjoyment and education of the public, and to promote the products of the farm, and thereby generate additional farm income," states an agritourism report out of New York published in 2001. The options for a farm stay are quite diverse — some offer free standing cabins, while others offer room and board within the family home. By offering housing, classes, or participation in the day-to-day function of the farm, owners are able to both educate guests and diversify their income stream. Hosting people is particularly beneficial in winter months, when the business of farming is otherwise relatively quiet.
"We started renting the gite about four years ago," says Joan Montiellet, co-owner along with her husband of their namesake — Fromagerie, in Dayton, about 20 miles east of Walla Walla. Their goat and sheep farm produces terroir-inspired cheese for sale at local restaurants and farmers markets in eastern Washington. While they have lived in Walla Walla County for years, it was only recently that they got into farming and looked for clever ways to create income.