We farm the land in the most traditional ways. We do all cultivation by hand, using hand tools and good old fashion elbow grease. We buy only heirloom and heritage seed varieties, always produced sustainably and purchased as locally as possible.
We do not buy genetically modified seeds. We do not use any form of synthetic or chemical fertilizers, herbicides or pesticides.
We treat our land as we would like to be treated and take pride in the amazing results.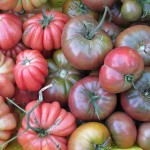 As the garden is farmed Biodynamicly, we source all of our nutrients from the farm itself! Our sheep and goat compost grows the most delicious and nutritious vegetables.
Our produce is ripe with life forces and radiates with the love and passion we hold for what we do as stewards of the land.
The gardens are an oasis for bees and other pollinating birds and insects. Feeding the wildlife, nurturing and nourishing the environment and all on the farm.



How the Gardens Started
The Monteillet Gardens were created by Erin Horan in 2009. She has extensive training in Organic and Biodynamic horticulture and agriculture and has been working on various CSA's, community garden projects and educational farms for the past 9 years.
Erin completed a 2 year agriculture training course at Emerson College in England in 2009. Her new found love for dairying brought her to the Monteillet Fromagerie, to practice animal husbandry and learn the art of cheese making.
As the need for a vegetable garden presented itself she built a small garden for farm use. As with all gardens, the bounty was inspiring. She began to sell the extra produce to local restaurants. The need and want for local produce was huge and from that small garden, Nourish Gardens was created and her small, yet fruitful business evolved.
Erin has since moved out of the area and is currently working to provide residents of the Pacific Northwest with sustainable vegetable garden designs, installation and maintenance.