Farm Stay at The Gite (Holiday House)
Treat Yourself to a Stay at The Gite
One of the best ways to enjoy the fromagerie is to stay in the "gite," which is French for a holiday home for rent.
Located on the 32-acre farm along the Touchet River, the gite, beautifully handcrafted by Joan and Pierre-Louis, offers three bedrooms, tile floors and an old-fashioned full bathroom where you can soak in a large cast iron tub.
The kitchen has an antique gas/wood range in perfect working condition, a full range of appliances including a large refrigerator and bread making furniture.
All the Amenities, Charming and Modern
The refrigerator is stocked with products from the farm: fresh milk, eggs, cheeses, butter, meats, cured bacon or sausage, fresh locally roasted coffee beans and good bread.
Other amenities: views of sunrises and sunsets!
Savor Life on the Farm in Any Season
Each season offers exceptional opportunities to savor life on the farm and surrounding region.
In spring, baby lambs, kid goats and newly hatched chicks and ducklings populate the farm; new piglets await the first whey from cheese production.
In summer, milking and cheese-making are in high production, with the opportunity to splash, fish and swim in the river.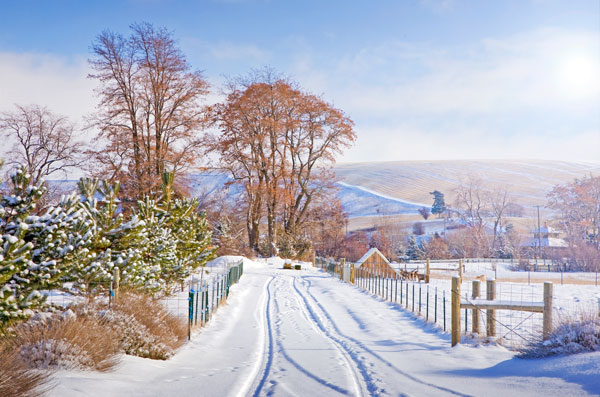 The valley is especially beautiful in the fall, with opportunities to visit local wineries and savor autumn harvest at local farms. Our preservation, canning and freezing efforts are in full swing at this time.
A dusting of snow in winter makes the fromagerie a magical place to get away. Ski Bluewood, a family-oriented ski area located in the Blue Mountains is just 20 miles away.
The Gite Fees:
Three full bedrooms, two full bathrooms—
private en suite bedroom—bath
whole house (one bedroom) $250/night
each additional bedroom. $100/night
Two night minimum stay
Call Joan at 509.876.1429 to reserve with a credit card.
72 hour notice is required for cancellations.
Inquire about special packages to combine lodging with cheese-making classes.