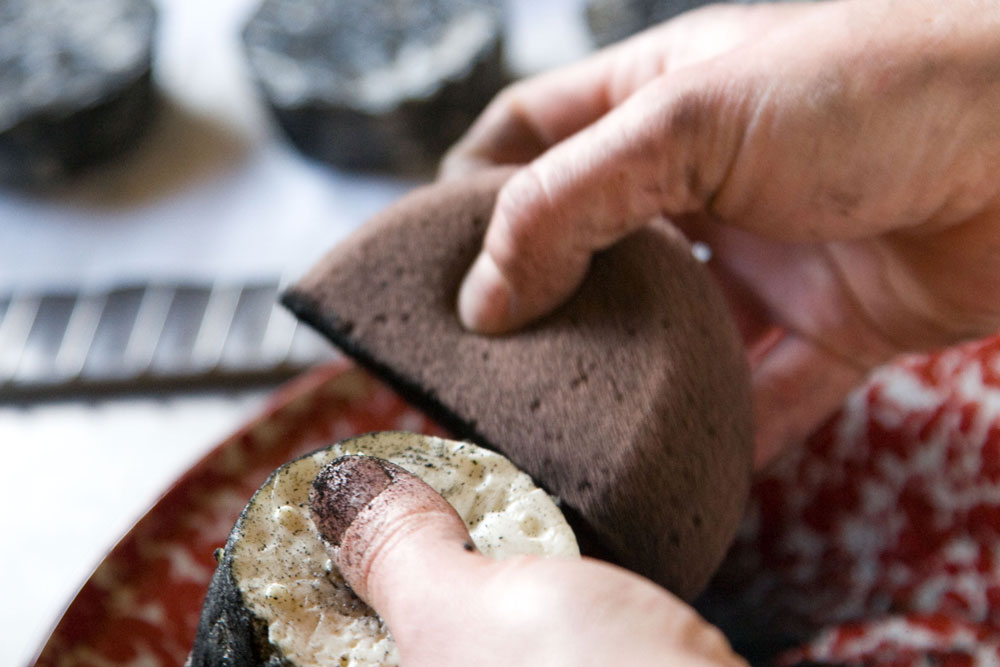 Le Roi Noir (The Black King)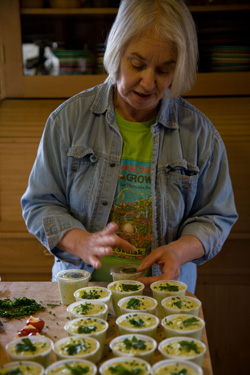 All of our cheeses are made by hand at the fromagerie using traditional techniques and inspiration from the Roquefort region of France where Pierre-Louise Monteillet was born.
As a Grade A dairy and farmstead cheese facility, the most important characters are our beautiful, registered Alpine goats and East Freisan-Lacaune sheep. Both breeds produce a high butter-fat content milk which in turn creates a creamy all natural cheese, free from additives, antibiotics and preservatives.
Only the best quality alfalfa hay and natural grains supplement their diet along with pasture grazing.
Cheese production is seasonal. Please call to check availability.
509.876.1429
Chèvre & Feta
Fresh Chèvre
A blend of goat and sheep milk, our mild, delicate soft cheese is made and packaged in under 48 hours from milk to cheese. A very mild cheese, excellent on salads, on pizza, in quiches and melted in cream sauces.
$20/lb, $10/8 oz.
Fresh Herbed Chèvre
Fresh chèvre blended with an organic bouquet of fresh basil, Italian parsley, summer savory, chives, cilantro grown at our farm along with sea salt and black pepper. Ready-to-eat as hors d'oeuvres, or toss onto pasta or top grilled meats.
$20/lb, $10/8 oz.
Wasabi Pickled Ginger Chèvre
Fresh chèvre blended with wasabi, pickled ginger and sea salt. A dollop on top of grilled fish or roasted chicken spices up a meal. Also great as a dip with vegetables.
$20/lb, $10/8 oz.
Feta
A blend of goat and sheep milk soft-pressed to create a creamy texture and aged in a lightly salted brine. Excellent on salads and in quiches.
$20/lb, $10/8 oz.
Soft-Ripened Cheese
Larzac
Our signature goat and sheep cheese we learned to make at our friends' fromagerie in Millau, France. Divided in half, it has a layer of a mixture of imported grapeleaf ash and sea salt. The exterior is a brie-style, white bloomy rind. Depending on the cellaring technique, the flavors run from nutty and mild to a more intense pound of stinky goodness.
$15/ea
Cardabelle
A traditional shape brie-style white bloomy rind with an interior of smooth oozy delight.
$12/ea
Le Roi Noir (The Black King)
This cabecou of goat and sheep cheese is aged one week, then dusted with grapeleaf ash and sea salt, and put back to cellar another week to bloom a smokey rind. A crowning touch of edible gold in a goat head stencil decorates the cheese in hommage to our good friend Le Roy (The King) Cunningham, partner in our favorite local restaurant, Whoopem Up Hollow Cafe.
Seeing our exhaustion the first four years operating Monteillet Fromagerie, Le Roy volunteered to rise every Sunday morning at 4:00am for one year to milk so we could rest. Needless to say, he never learned to milk animals during his 20 years as a Marine!
$12/ea heart shape
La Fleur du Midi (A Flower from the South)
A lovely summer brie style bûche dusted on the exterior in a combination of sea salt and a blend of sweet, hot and smoked paprika decorated with edible flowers. A show-stopper to share at parties.
$12/ea
Provençal
A Cardabelle marinated in Italian olive oil, a drop of truffle oil, sprinkled with summer savory, pink pepperberries, adorned with a sprig of rosemary and slices of garlic. The marinade makes a great dipping oil with bread or to make a vinaigrette
$12/ea
Semi-Hard & Hard Cheese
Tommes: 3 – 6 month aged semi-hard, 6 – 12 month aged hard
Causse Noir
A natural salt-rubbed rind, goat and sheep milk combination tomme, butter, smooth texture at 3-6 months cellared, and evolves to a more crystalized, sharper flavor at 6-12 months, perfect for grating.
$27/lb
Sauveterre
A natural salt-rubbed rind, pure sheep tomme, semi-hard with mellow, nutty nuances cellared at 3-6 months At 6-12 months it develops a more crystalized texture and a sharper flavor with a smooth aftertaste, distinctly different from the Causse Noir.
$27/lb
Mozzarella & Ricotta
Mozzarella
Using pure whole sheep milk within 5 hours, milk to cheese magically transforms into pillowy delights. Closer to Buffalo mozzarella than cow mozzarella. Great melting habits, rich flavor, packed after stretching in a lightly salted whey brine.
$22/lb, $11/8 oz.
Ricotta
Using the whey from the mozzarella, this traditional, delicate cheese is smooth, rich and lends itself to both sweet and savory applications.
$22/lb, $11/8 oz.