Pierre-Louis and Joan Montiellet raise 50 French Alpine goats and 50 Friesian and Lacaune sheep on their 32-acre farmstead in Dayton, Washington, 28 miles northeast of Walla Walla. Pierre-Louis moved to the United States in 1979, after he met Joan, a glass and ceramic artist, in Mexico. They farmed wheat for 16 years at her family's farm in Eastern Washington. Several years ago, they decided that making small batches of cheese from sheep (brebis) and goat (chevre) milk was more suited to them. But let's start at the beginning.
In the Beginning
Pierre-Louis was born and raised in Millau, France, a small town on the Tarn River, just 20 miles from Roquefort, renowned for the natural limestone caves where cheese production celebrates over 2000 years.
Legend has it that the cheese was discovered when a shepherd took refuge from a rainstorm in one of Millau's limestone caves. He accidentally left his lunch of rye bread and sheep cheese on a stone ledge. Upon his return to the cave some months later, he found a beautiful, tasty metamorphosis that is the green-veined sheep cheese we know today as Roquefort.
Joan grew up in Walla Walla, Washington as a third generation wheat farmer's daughter, on a farm that raised cattle, horses, pigs, sheep, chickens and a huge garden that allowed the family to be sustainable and self-reliant. Joan was raised in a time in Walla Walla when young girls on horses had more pull on the street than anyone in a car.
When Joan Met Pierre-Louis
In 1978, at age 27, Joan ventured outside the United States to Oaxaca, Mexico, where Pierre-Louis was also exploring the ancient Zapotec ruins of Monte Alban.
Exchanging addresses after an evening of eating authentic Mexican food and dancing in the Zocalo plaza to a 15-person Marimba Band playing "The Flight of the Bumble Bee", Pierre-Louis exited North toward Mexico City and Joan continued traveling South to San Cristobal de Las Casas.
Six weeks later, Joan, back in Walla Walla working as the chef at the Left Bank Restaurant, received a big surprise visit from Pierre-Louis, who had hitch-hiked from El Paso, Texas in three days to Walla Walla. This began their odyssey of 33 years of love, farming and as of 2011, still building a lifestyle based on authentic respect for each other's cultures.
Monteillet Fromagerie
In 2001, Pierre-Louis Monteillet returned to France's Roquefort region, where he grew up, to learn how to make cheese with Dominique Castanier. Armed with traditional techniques and Joan's animal-raising skills, the Monteillets churn out French-style cheeses that partner well with Walla Walla's world-class cabs and merlots.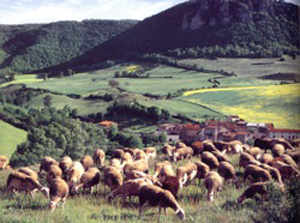 Their artisan cheeses are made by hand in small batches. The Monteillets raise their own goats and sheep for milk, almost entirely cutting out middlemen, other than feed suppliers. Farmstead cheesemakers have to buy alfalfa hay and, sometimes, grain for their goat and sheep herds, so the rising costs of feed fit into the equation of handmade cheese's sometimes lofty costs.
Like a winemaker, Monteillet believes his cheese should reflect the terroir. "Our cheeses are made with the idea of terroir. Maybe it's not scientific, but we try to capture the taste of the land in the same way that Old World wines hint of the earth where the grapes are grown."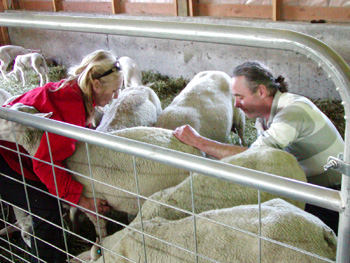 Monteillet Fromagerie is a vibrant community of work and life in the heart of Washington wheat country. As a true ecosystem centered on our farmstead artisanal cheesemaking operation, the Monteillets strive to foster a lifestyle that is creative, both physically and spiritually, as well as economically.
In addition to the production of traditional hand-ladled cheeses, we offer opportunities for adventures in learning about animal husbandry, organic farming, creating valued-added food products such as pasta, cheese-filled ravioli, yogurt, preserving fruits, vegetables, jams and jellies.
Using our farm-grown produce and meats: pork raised on pasture and whey, free-range lamb, goat and chicken all natural and antibiotic-free, we host special Farm-to-Table events at our newly completed timber-framed, shady cooking pavilion during the summer and fall where all our interns will be involved in the productions.
Events will be posted on this website and on our FaceBook page. Please call Joan at 509.876.1429 for schedules and private appointments.