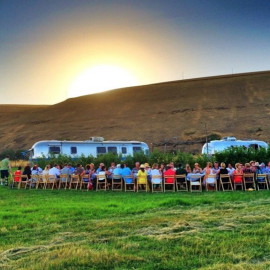 Friends! Please join us for this lovely celebration – it will be our last Outstanding in the Field! And it could never be better. Jimgermanbar joins with the stellar Mike Easton of Seattle's Il Corvo and Pizza Gabbiano. A once in a lifetime night!
From Outstanding in the Field website:
Host Farmers: Joan & Pierre-Louis Monteillet, Monteillet Fromagerie, Dayton (Walla Walla), Washington
Guest Chef: Clare Johnston, Jim German, & Anne Jaso, Jimgermanbar, Hannah McDonald, Brasserie 4, Mike Easton, Il Corvo, Jamie Guerin, Whitehouse-Crawford, Walla Walla, WA

OK, we have to say it: This was the best dinner of 2014. Between Joan & Pierre-Louis, the wonderful chefs from The Whoopemup Cafe, Patit Creek Restaurant and The Weinhard Hotel, it was truly a night to remember. This year, we have some new restaurants participating and we can't wait to see what they've got! If you decide to join us at Monteillet, make sure to take time to check out the nearby town of Waitsburg and find a seat at the Jimgermanbar. (Maybe we'll see you there.)

When: Sunday, Jul 12, 2015 4:00 PM
Ticket Price: $195.00
Where: Monteillet Fromagerie 109 Ward Road Dayton (Walla Walla), WA 99328
Purchase tickets here.