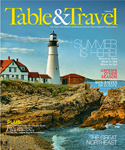 Chase's Table & Travel magazine really got us. Read what they have to say in their Summer 2013 issue:
Hooked on the Bramble
by Rebecca Kleinman
Table & Travel
Summer 2013
"A sliver of the south of France occupies eastern Washington state in Monteillet Fromagerie, a 32-acre farm that's home to 100 goats and sheep whose milk produces artisanal batches that reflect terroir much like the nearby Wall Wall Valley's wines.
When they aren't busy tending to their bread and butter, owners Pierre-Louis and Joan Monteillet play hosts to curious cheesemongers in-the-making by renting their Gite, French for cottage, along the Touchet River. Cooks' eyes light up upon seeing its antique gas and wood range in perfect working condition, only to be really blown away when they open the fridge fully stocked with farm-fresh dairy from eggs to milk, cured meats, hearty bread and coffee beans—breakfast done right. Harvest veggies and take a cheesemaking class before a good long soak in the roomy cast-iron tub with a glass of local cabernet sauvignon.
Read the entire article here>>
Select "Hooked on the Bramble," page 40.